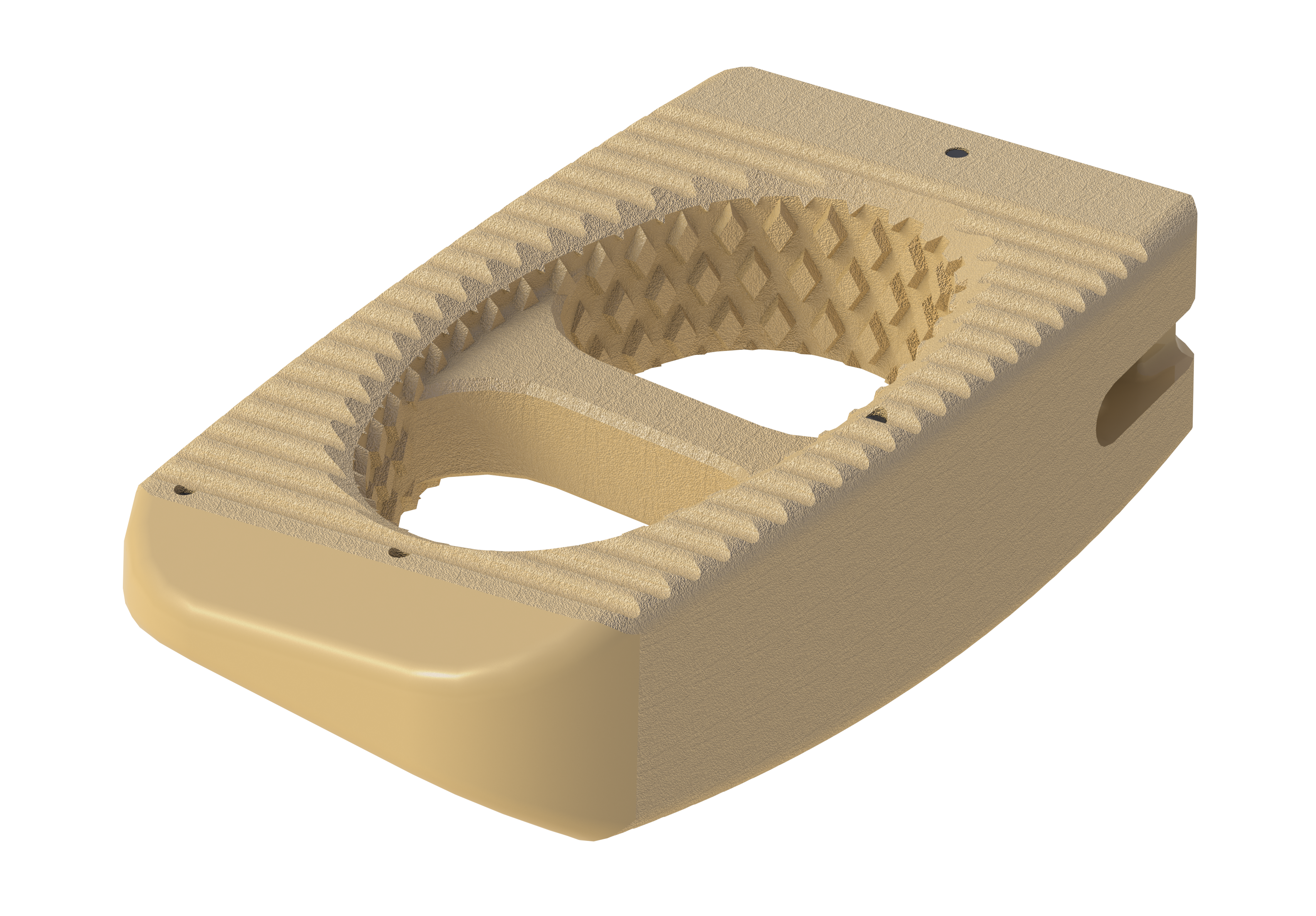 Lumbar Implants
Designed, developed, and manufactured with 3D printing partner
Near-net shape 3D printed surfaces with precision machined instrument connection features
Full portfolio of shapes and sizes to meet anatomic approach and fitment for cervical and lumbar spine
Printed PEKK polymer is designed to participate in bone growth without compromising the radiolucency of traditional PEEK
Developed fixturing to hold the irregularities of the 3D printed blanks for final machining.(maybe a more elegant way to say this?)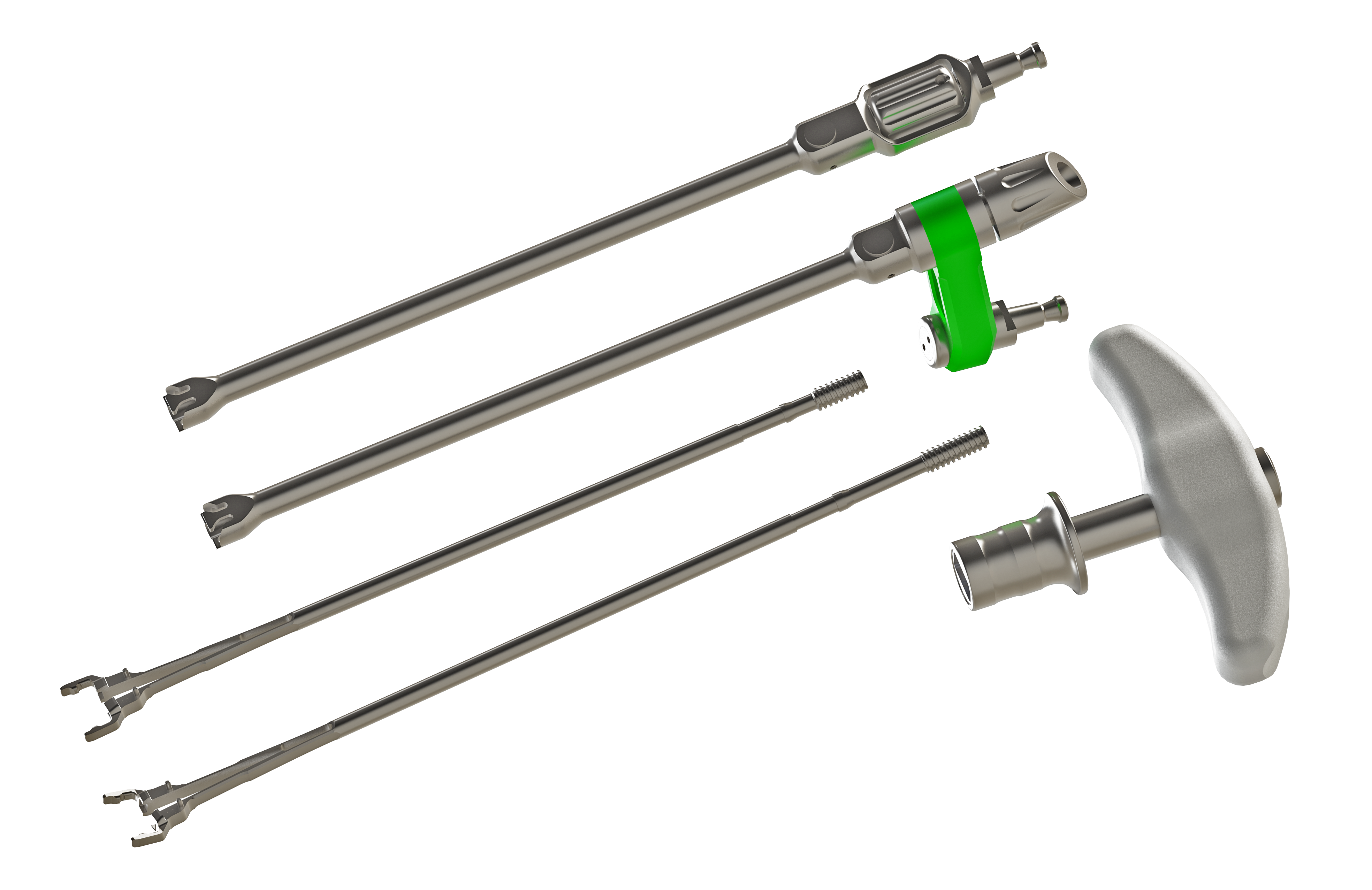 Inserters
Fully designed, developed, and manufactured in-house
Feature patented clamping technology to securely hold IBF implants during insertion and manipulation
Custom designed interfaces for each of the families to optimize impaction load distribution during implantation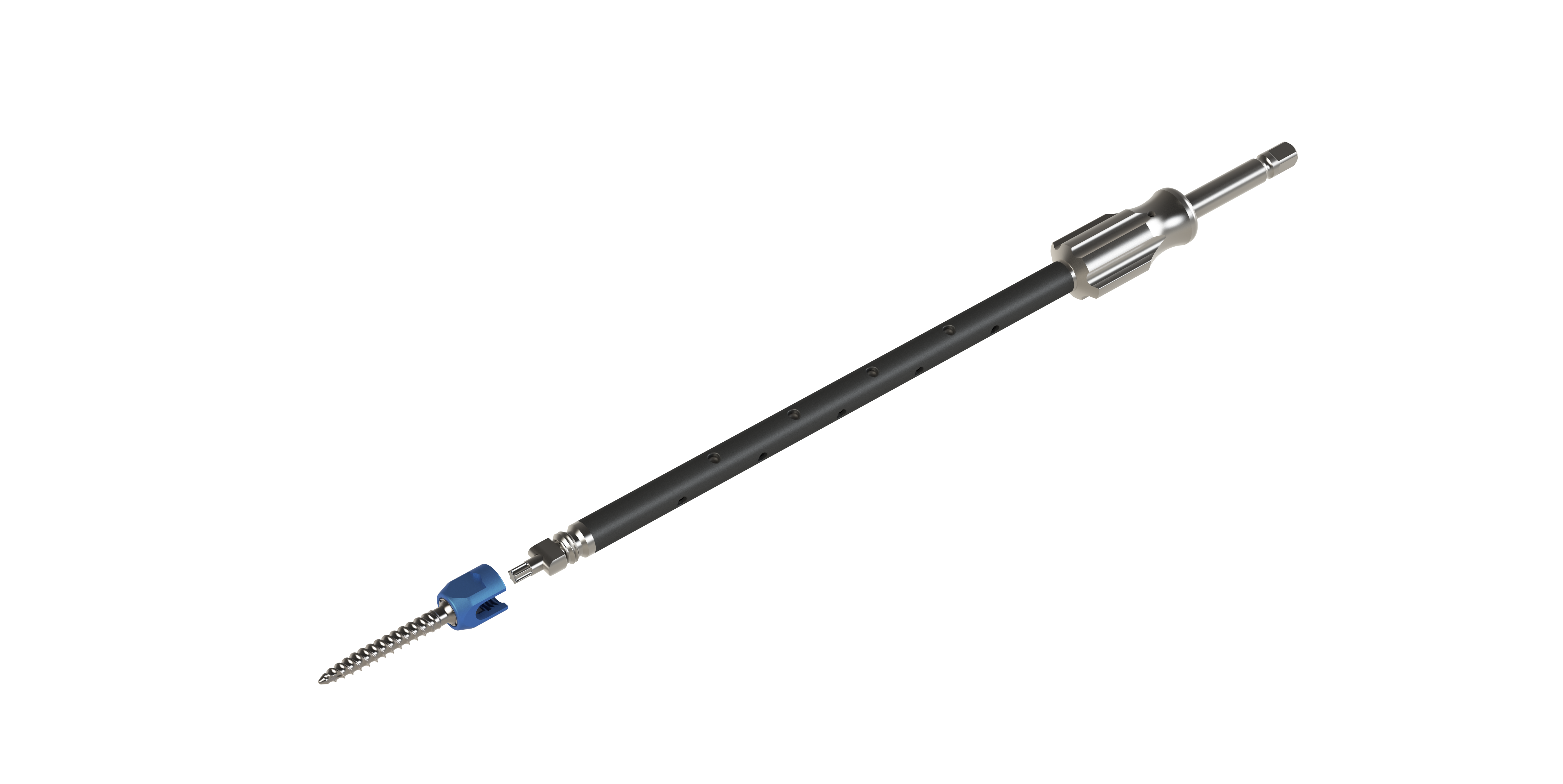 Inserters with Screws
Cleanable screwdriver. Lock and unlock feature allows to disassemble the screwdriver for easy cleaning and reprocessing.
Screwdriver was designed, developed, and manufactured in-house.
Compliant screwdriver that meets ISO standards for reprocessing.
Standard T-25 Hexalobe Drive with a ¼" square drive quick connection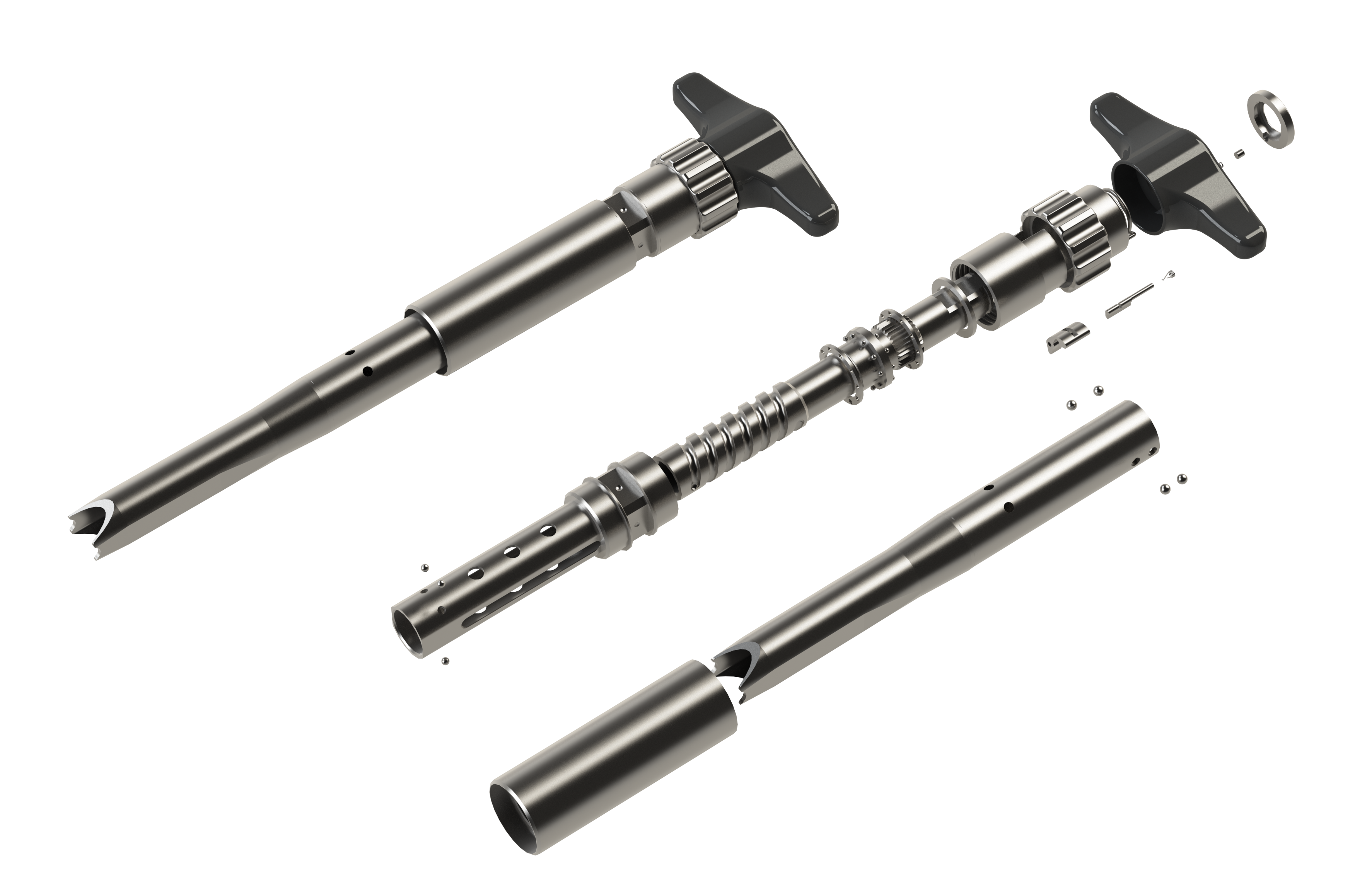 Lumbar Rapid Reducer
Sleek rod reduction design with multiple function with a ball screw design using ceramic bearings reducing instrument friction and providing maximum mechanical advantage for rod reduction. One Instrument designed to facilitate:
Rapid rod reduction, up to 25mm with just two handle rotations
Set screw insertion and final tightening through rapid reducer
 Segmental deformity de-rotation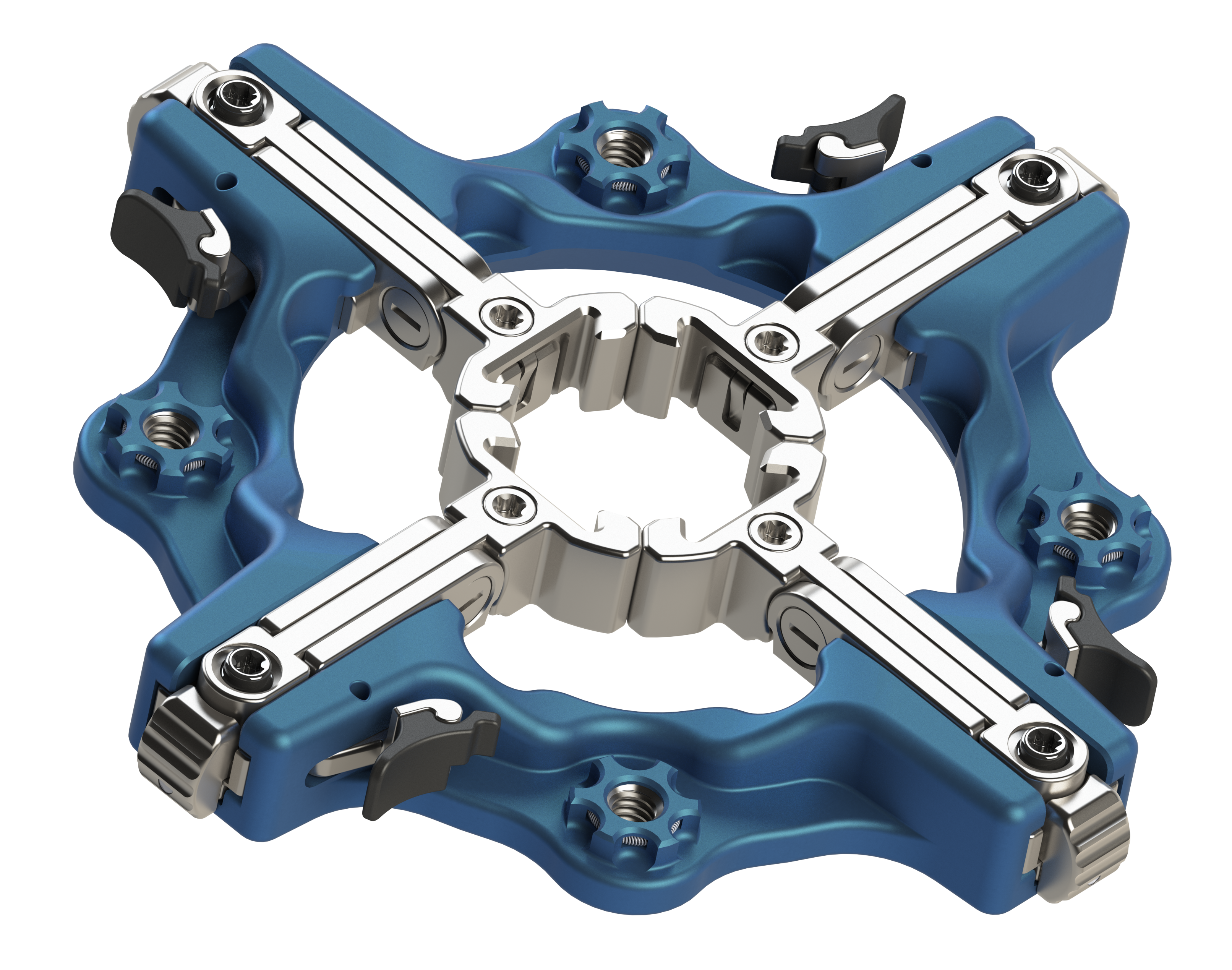 Lateral Retractor
Lateral retractor system was designed, developed, and manufactured in-house.
State of the art retractor system when it was introduced in 2010
Retractor allows for both 4-blade and 2-blade technique
Individual blade retraction and articulation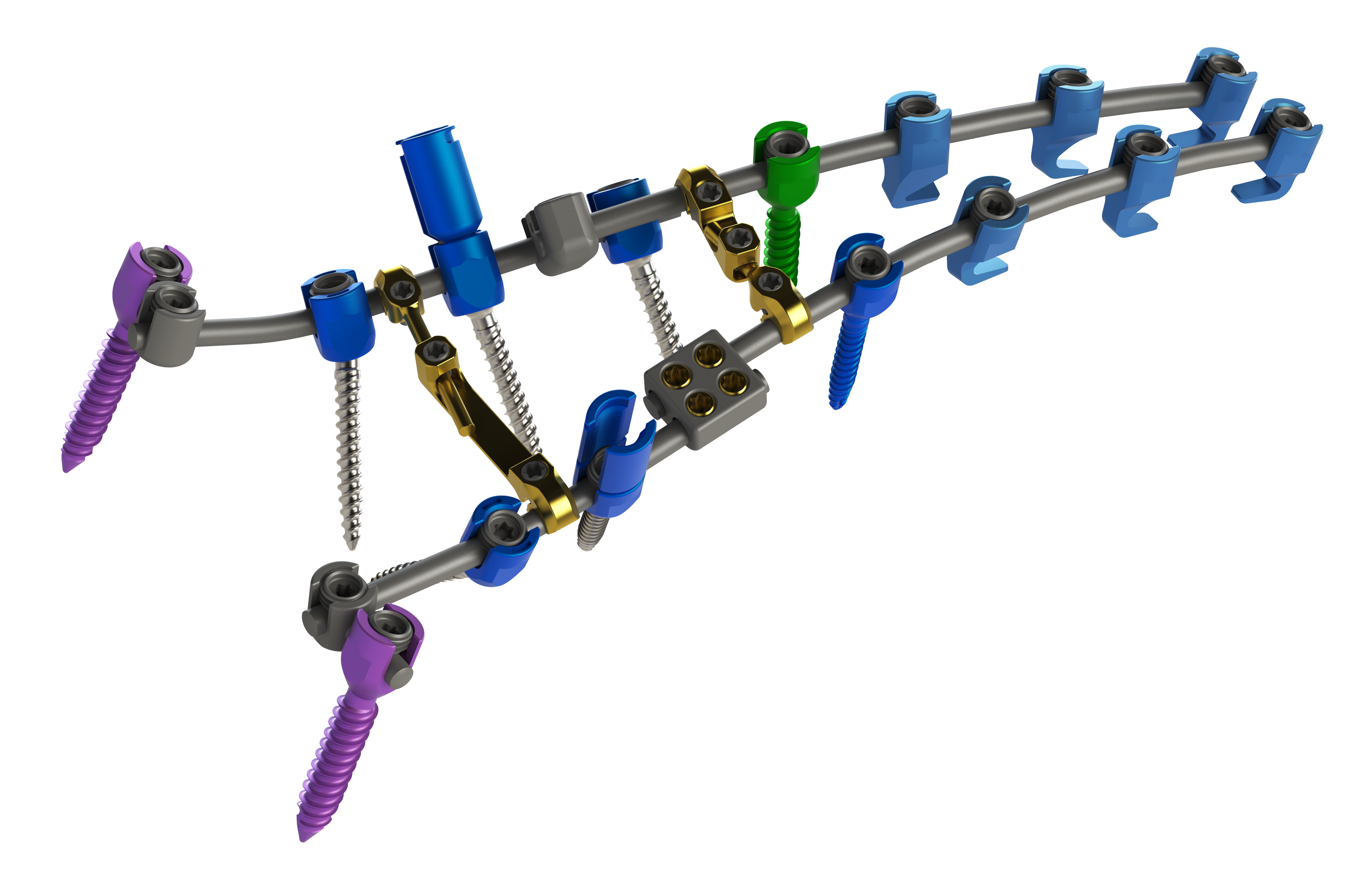 Degenerative and Deformity Systems
Fully designed, developed, and manufactured in-house
Consists of poly-axial screws, poly-axial reduction screws, fixed (mono) screws, lateral offsets, inline and offset connectors, and fixed/variable crosslinks
Best-in-class extreme 60° conical screw angulation achieved to meet unique requirements for the posterior thoracolumbar and lumbar spin
Intuitive and patented instrumentation developed to bridge the compromise in surgical technique from traditional pedicle screw design
Streamline instrumentation to include minimal instruments that reduces the steps required to perform the traditional procedure. One set screw used for all implants that utilizes the same T-25 Hexalobe drive mechanism for all devices.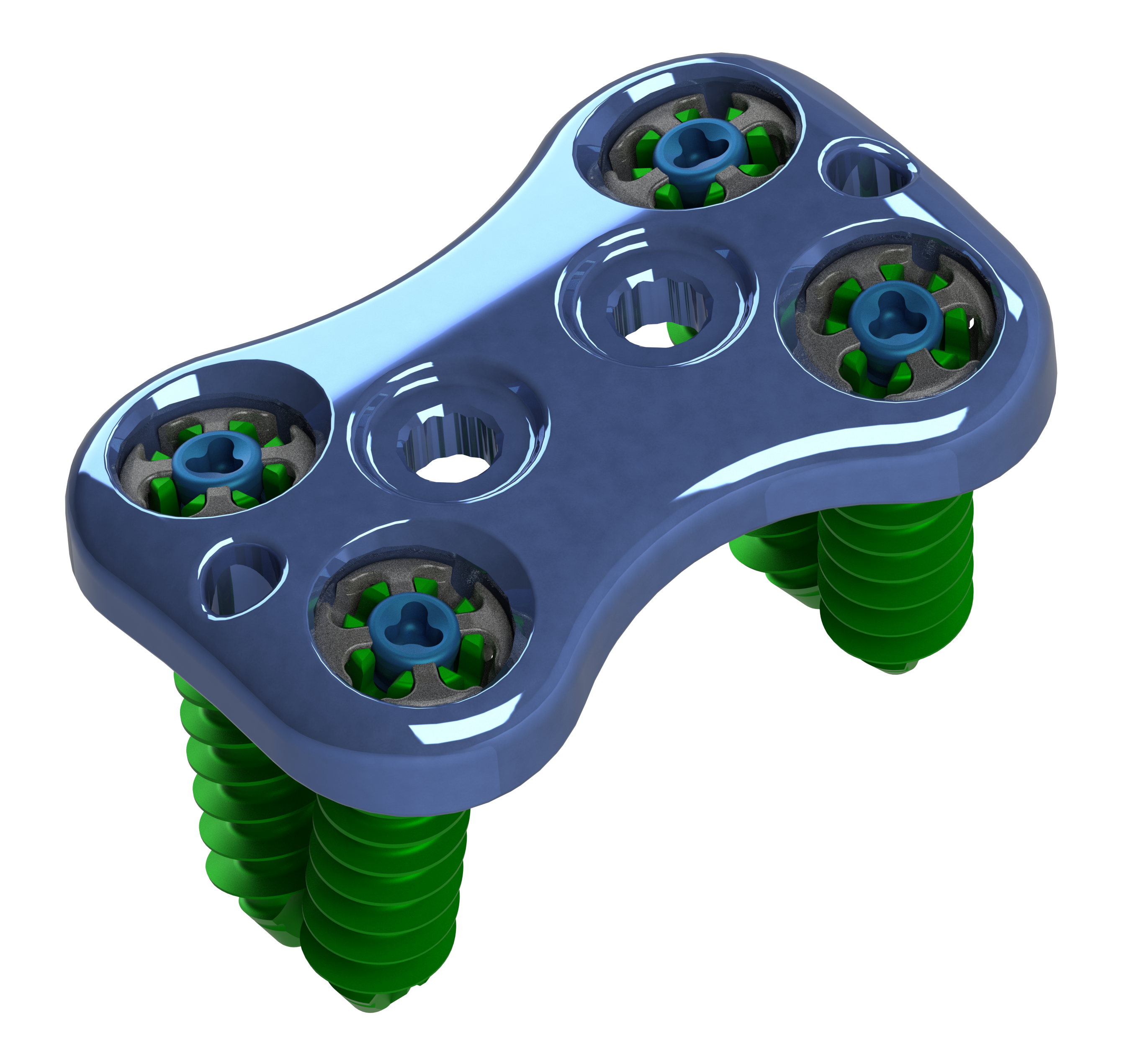 Anterior Lumbar Plate System
Implant was designed, developed, and manufactured in-house.
Unique bone screw design with integrated set screw that locked the screw angle relative to the plate.
System included both lumbar and sacral plates.

Collaborate
With us
We are always looking for new opportunities to collaborate and innovate with external partners to help improve patient lives. If your company is looking for a partner to accelerate innovation and speed to revenue, please fill out the following form. Do not submit confidential or proprietary information through this form.